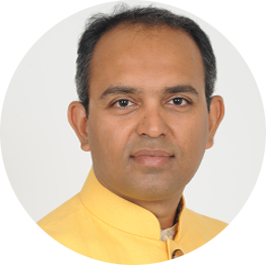 Intro
In our technology-driven and ever-stimulating world, turning inwards has become essential for survival.
Our philosophy is rooted in, and respectful of the traditions of Yoga and Ayurveda while adapting to a modern, everyday life. We strive to transmit this ancestral philosophy through our classes, treatments, consultations and conferences.
Morever, we are concerned about the world and we are always looking to incorporate environmentally friendlier ways of living and working. Yoga and Ayurveda remind us about our connection to nature.
Our choices reflect our commitment to providing a safe, healthy and environmentally-sound approach.
Acharya Dr. Yogeet Kapoor MD(AM) Co-Founder and Director
Born and educated in the historic city of Rohtak, Yogeet grew up in a traditional family of health practitioners. He was first initiated in his childhood with vedic system by his grand father and father (Vaidya in alternative medicine like ayurveda, unani and naturopathy) themselves disciples of Yogiraj swami Devmurti. He inherited the initial knowledge of traditional methods of ayurveda, vedic astrology, vastu and other riches of spirituality and holistic science from his parents and then learned deeper knowledge from his gurus, who were specialized in their respective fields. Every year when he visits India he meets new masters to receive their expertise and science.
First graduated as a pharmacist from the Rohtak university in India and naturopathy in alternative medicine, Yogeet later studied under the Gurukula method (old Vedic education) to deepen his knowledge of both the theoretical and practical aspects of Ayurveda, astrology and vastu. He came in contact with Gurukuls of Shala vaidyas of Ashta Vaidya traditions of Namboothri family headed by Vaidyamatham Valiya Narayan Namboothri in Kerala and other great ayurvedic masters from north India & the world.
At the age of 14 years he found his spiritual guru and he was initiated on the spiritual path by her and was guided then for spreading the knowledge of vedic science & spirituality and later during visit to various spiritual masters he was shown his dharma of this birth. One day during meditation he visualized glory of various vedic sciences and he decided at that very moment to spread them amongst humanity.
Yogeet firmly believes that every human has his karmic & cosmic linkage and one suffers or recovers due to them. During his consultations and seminars he helps people understand, in a simple language, the link between their suffering and their karmic actions and try to heal their sufferings with global aspect of spiritual and holistic sciences.
His aim is to develop a center for research, training and treatment procedures which uses all holistic methods for healing and well being of body, mind and soul, where people not only leave their sufferings behind but find openness in their spirit and journey towards inner self.